The Fourth "Hengfu Cup" Tea Living Innovation and Entrepreneurship Contest is under the guidance of Tianhe Science and Technology Industry and Information Technology Bureau, Jointly sponsored by China Tea Distribution Association, Guangdong Industrial Design Association and Hengfu Tea Culture Co., Ltd., Hengfu Tea Culture Co., Ltd. Thanks to the strong support from Tianyinghui, the competition was officially launched in July 2017 and the deadline for submission was set for October 30, 2017.
The Fair and Impartial Selection of Li Hong, Shi Zhenyu, Li Yongquan, Xu Jiekun, Wang Runliang, Xiao Anbang, Cao Fang and Xu Jiegen as Judges from November 1 to November 30, 2017, In accordance with the six principles of "innovation", "easy to use", "aesthetic", "environmental protection", "intelligence" and "interesting", the following entries were selected: 28 Creative Design Groups total, The total number of entrepreneurial projects is 2 (not classified).
To thank the participants for their active participation, the organizing committee of the Heng Fu Cup Competition selected the original gift from Heng Fu as a souvenir to the excellent contestants. The Organizing Committee also congratulates the finalists who have been shortlisted. The finalists will be awarded the shortlisting certificate, in the hope of achieving better results in the rematch.
The Organizing Committee shall publish the list of short-listed works for the period from 1 December 2017 to 5 December 2017, Any entity or individual has any objection to the short-listed works during the public announcement period, may submit relevant confirmation materials to the Organizing Committee of the Competition by e-mail. After the public announcement, the final undisputed works will be shortlisted for the Grand Prix.
Innovation Design Section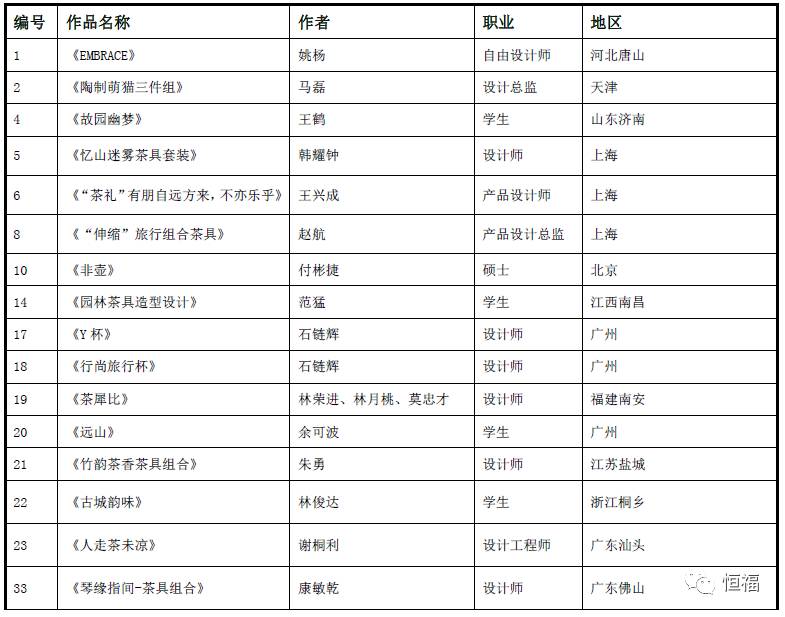 创业项目组
Remarks:
Qualifying period: December 2017-30 January 2018
Final assessment date: March 2018
Address: Heng Fu Tea Culture Co., Ltd., 23/F, Fuli Ying Lung Plaza, 76 Huangpu Avenue West, Tianhe District, Guangzhou City
Contact person: ms. liao
Match Box: hengfubei@gzhengfu.com
Designated website of the Competition: http://www.gzhengfu.com
Heng Fu Cup Special Knitting Machine: 3502468852